Google Keep is an application that has flown below the radar for some time. The reason for this was probably due to its simplicity when it was initially unveiled.
The app was a good way to jot down a quick note on your phone, but didn't come with the features that many people now require in an app designed to be more than a To Do list. Other applications like Todoist, Nozbe, Wunderlist, Evernote, and more had the features that seemed to push Google Keep back from the forefront.
However, the app has been updated over time and it now sports some powerful features like reminders, labels, and now has some updates that help to include drawings and annotations:
​ Google rolled out an update to their Keep app today that allows you to add drawings to new and current notes.

To start a drawing in a new note, tap the pen icon from the main screen of the Google Keep app. (The icon is also available on the widget.) If you want to add drawings to an existing note, list, or photo: open it and tap the overflow menu to select "Add drawing." Add drawings to notes in Google Keep
This addition will be handy for a large number of people who want to jot down a quick annotation to an existing note – something that can really be useful for doing a quick markup on a photo or annotating an article with something to do later.
IOS users aren't going to be in the lurch – the updates to Keep on the IOS side have helped to make it more on par with the various of apps available. This is great to see and we hope that there is a parity between Android and IOS apps moving forward in this space.
If for no other reason than making it easy to choose what app is best for you, without having guess which features are available where. Find out more about Keep and IOS: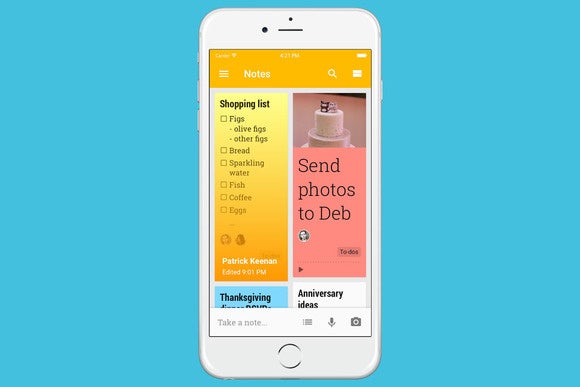 Google's Keep app for iOS is now a bit more competitive with other apps like Evernote thanks to new features the company added Thursday.

Users can now access Keep from a new Today widget they can add to Notification Center so that it's easy to start up a new note or open one they recently edited without having to sort through the app first. It's also possible to add things to Keep from other applications (such as Google's Chrome Web browser) using a new sharing extension that the company built.

That feature lets users open the share sheet inside an application, push the Google Keep button, and load information into Google's note-taking program without having to leave what they're doing. Users can also add a title and additional notes, plus a label to categorize the note. It's a way to clip things from applications that support iOS's system share sheet, which gives Keep access to a wide variety of apps. Google Keep for iOS gets closer to Evernote with ease-of-use features | PCWorld
If you're a student or know one, you might be interested in this short list of ways students can make use of Google Keep:
"10 Things Students Can Do With Google Keep" https://t.co/oxxswZUfVT #education #feedly

— Valentín ClaseMúsica (@ClaseMusicaCom) November 9, 2015
If you haven't yet taken the plunge with Google Keep you should definitely give it a shot. It's a neat little app that can be helpful and we'll be giving it a more in depth review in the near future. As with other Google apps this one is free.